"Dawg's Theme" is a parody of Ozzy Osbourne's theme song for the reality TV show Dog the Bounty Hunter. It was featured in the Season Ten episode, "Miss Teacher Bangs a Boy".
Background
Eric Cartman is selected to be South Park Elementary's new hallway monitor and the power goes over his head. He becomes "the dawg", a parody of the reality crime show Dog: The Bounty Hunter. A music montage plays introducing his crew.
Lyrics
First Version
There's fear and darkness all around you
The criminals are on the run
No use in not having your hall pass
I'll take you to the principal 'cause I'm the Dawg
I am the Dawg, the big bad Dawg
The Hallway Monitor!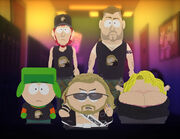 Second Version
I got some badass guys to help me.
I only had to pay them fifteen bucks.
You think you got away with not having a hall pass?
You won't get away from me 'cause I'm the Dawg!
I am the Dawg, the big bad Dawg!