"Coonstagram (App)" is under construction. Some information may be missing.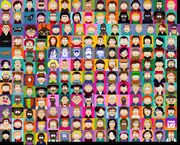 Coonstagram is an in-game mechanic in South Park: The Fractured But Whole.
Overview
Coonstagram is an app in which characters use to communicate with each other. Their posts will be displayed at the top of the screen at certain periods in-game.
Players will need to build their rank in Coonstagram by taking selfies with anyone who agrees to have one taken. There are several citizens who agree for pictures without any prerequisites, so players should check with anyone they come across. Some characters however will require a specific task to be completed, or gain a specific amount of followers to prove the player's popularity before having a selfie taken.
Gaining Coonstagram followers will boost the "Influencer" title inside the Character Sheet app, providing rewards to the toy chest once the title rank has been reached.
Missable Followers
Regular Followers
Name
Location
How to Get
Annie Nelson
South Park Elementary
Annie likes selfies, so no quest needed.
Ashley
South Park Elementary
Bartender
Crunchy's Micro Brew
Buy the Bartenders dope cd.
Bebe
Bebe's House
Player must buy one of Bebe's outfit schematics from her vendor and craft one of them.
Benny
Bank of South Park
Player must reach highest economic value on Character Sheet
Big Gay Al
Big Gay Al's House
Find all Big Gay Al's missing cats (complete quest Scavenger Hunt: Big Gay Al's Big Gay Cats).
Bill
Raisins
Equip a Blaster ability.
Blaze
The Peppermint Hippo
No quest needed.
Brimmy
Raisins
Equip a Cyborg ability.
Butters
Tolkien's House
Call Girl
Tolkien's House
Clarence
South Park Senior Center
No quest needed.
Classi
Jimmy's House
Classi will not say shit if you don't help her with her meds. So get her pills from the weed store.
Clyde
Tolkien's House
Craig
Craig's House
Complete The Chains of Super Craig, then request a selfie with him.
Cristal
Cartman's House
Crystal
The Peppermint Hippo
Danica
The Peppermint Hippo
Daniel
Jimbo's Guns
Darryl Weathers
The Peppermint Hippo
David
D-Mobile
You must buy a plan at D-Mobile.
Detective Murphy
Park County Police Station
DJ Hippo
The Peppermint Hippo
After mission The Bowels of the Beast buy him a drink Gin and Tonic from The Peppermint Hippo bartender or take it from behind the bar
DogPoo
The Playground
No quest needed.
Dougie
Butters' House
He is found in Butter's garage but other than that. He gives you a free follower.
Dr. Mephesto
Mephesto's Genetics Lab
Eddie
D-Mobile
Esther
Bebe's House
No quest needed but double respect when you beat up a snowfemale
Father Maxi
Church
Filmore
The Playground
If Ike gets to follow you then so can Filmore
Firkle
Henrietta's House
Fosse
Raisins
Equip a Speedster ability
Francis
Raisins
Equip an Assassin ability
Gay Fish
Crunchy's Micro Brew
Talk to Seaman and help the lil Gay Fish's mama go to the afterlife.
Grandpa Marsh
Stan's House
Buy Ol' Gladiator Condom at Unplanned Parenthood Clinic and give it to him.
Henrietta
Henrietta's House
Ike
Kyle's House
Request a selfie with him in his bedroom in Kyle's House.
Jack Brolin
South Park Gazette
James
Your House
James and the rest of his crew will take a selfie with you at the end of the game
Janson
City Hall
Play must take a selfie with the mayor first.
Jason
Raisins
Equip a Brutalist ability.
Jeff
D-Mobile
Jennifer
Bebe's House
Jesse
Your House
Group photo! Is at the end of the game.
Jesus
Heaven
Free selfie after you help the Gay Fish's mom.
Jimbo
Jimbo's Guns
Jimbo lost his wallet in The Peppermint Hippo, go find it
Jimmy
Jimmy's House
No quest needed.
Johnson
City Hall
Mayor McDaniels must follow The New Kid
Karen McCormick
Kenny's House
Player must find her doll in Soft Room In Park County Police Station
Kenny
Kevin Stoley
Your House,
Request a selfie with him between Your House and Butters' House. Minimum 2 followers. If missed he can be found in his room in Stoley Residence.
Kyle
Kyle's House
Complete Alternate Universes Collide, then request a selfie with him.
Lexus
Raisins
Purchase the $25 pass ($5 if A Perky Predicament is completed).
Louis
Raisins
Equip a Psychic ability.
Mayor McDaniels
City Hall
Mercedes
Raisins
Purchase the $25 pass ($5 if A Perky Predicament is completed).
Michael
Nichole's House
Miles
Medicinal Fried Chicken
The Medical Fried Chicken store is closed until you reach a part of the story. Check once and a while to see if the store is opened. If it is then, go get your follower.
Morgan Freeman
Freeman's Tacos
This handsome fellow won't follow you until you craft one of his items.
Moses
Hall of Super Best Friends
Player must use a Macaroni Picture during combat.
Mr. Adams
Park County Police Station
Player must distribute all of his headshots.
Mr. Adler
South Park Elementary
Don't screw around!
Mr. Biggle
Henrietta's House
Mr. Black
Skeeter's Wine Bar
After the quest The Thin White Line.
Mr. Broflovski
SoDoSoPa
Mr. Daniels
Nichole's House
Mr. Donovan
Skeeter's Wine Bar
Mr. Hankey
Community Center
Mr. Jenkins
South Park Senior Center
No quest needed.
Mr. Kim
City Wok
Mr. Mackey
South Park Elementary
Mr. McCormick
Kenny's House
No quest needed.
Mr. Slave
Big Gay Al's House
No quest needed.
Mr. Stevens
D-Mobile
Mr. Stotch
Butters' House
Mr. Testaburger
Crunchy's Micro Brew
Mr. Tweak
Tweek Bros. Coffee
Must be bought some item from him.
Mr. Valmer
Jimmy's House
Help Jimmy with his project.
Mrs. Biggle
Henrietta's House
Mrs. Black
Skeeter's Wine Bar
After the quest The Thin White Line.
Mrs. Broflovski
Kyle's House
Mrs. Farnickle
Cartman's House
Request a selfie from her outside of Cartman's House.
Mrs. Hankey
Stan's House
Mrs. McCormick
Kenny's House
No quest needed.
Mrs. Stevens
D-Mobile
Put some make up on and reveal your prettiness then Stevens will follow you
Mrs. Testaburger
Main Street Office
Mrs. Tucker
Bank of South Park
Get Craig and Tweek back together.
Mrs. Valmer
Jimmy's House
Ms. Cartman
Cartman's House
Ms. Cartman will follow you, nothing important.
Natalie
The Playground
Obtained during To Catch a Coon mission. Solve Mitch Conner's riddle to find her.
Nate
Raisins
Equip an Elementalist ability.
Ned
Jimbo's Guns
No quest needed.
Nichole
Nichole's House
She's in her room upstairs with Red(until you progress) no quest needed.
Officer Barbrady
City Wok
Barbrady will follow you, either way.
Officer Mike
Park County Police Station
PC Principal
Crunchy's Micro Brew
There are some PC work to be done, he'll tell you the details you need to know.
Percy
Your House
Group photo! Is unlockable at the end of the game.
Peter
Bus Stop
Pete
Henrietta's House
Petey
Raisins
Equip a Plantmancer ability.
Porsche
Raisins
Purchase the $25 pass ($5 if A Perky Predicament is completed), and equip a Martial Artist ability.
Postman
Your House
Meet him outside The New Kid's House. Help him open the mailbox by punching it, then request a selfie him.
Randy Marsh
Stan's House
Help Randy Marsh find out who's behind the keying of his wife's car.
Rhonda
The Peppermint Hippo
Sarah
Bus Stop
Scott Malkinson
Tolkien's House
Seaman
Crunchy's Micro Brew
Sergeant Yates
Park County Police Station
Sharon Marsh
Tom's Rhinoplasty
Shawna
Cartman's House
Shelly Marsh
Stan's House
Shelly only follows people with a lot of followers
Simon
Skeeter's Wine Bar
Skeeter
Skeeter's Wine Bar
Stan Marsh
U-Stor-It
Steve
The Peppermint Hippo
Timmy
Tolkien's House
Todd
Medicinal Fried Chicken
Tolkien Black
Tolkien's House
Towelie
Medicinal Fried Chicken
Tricia
Craig's House
Get at least one Yaoi art piece for her dad, then she'll follow you
Tweek
Tolkien's House
Tweek's Mom
Tweek Bros. Coffee
The player must get Tweek and Craig back together.
Wendy Testaburger
Bebe's House
She'll take a selfie, she's right next to Bebe. But keep an eye on Wendy... she seems like a person who would have a secret..
| | Name | Location | How to Get |
| --- | --- | --- | --- |
| | Bertie | Casa Bonita | Bust tickets out of the Bola Skee machine next to him and give them to him. |
| | Black Bart | Casa Bonita | Request selfie with him from the right side of the line. |
| | Calvin Winkleman | Casa Bonita | Get him Sombrero Bear for 10 tickets from the arcade vendor. |
| | Casa Bonita Host | Casa Bonita | Obtain Meal Ticket. |
| | Chiquita the Gorilla | Casa Bonita | Get him ice from the broken soda machine near the entrance. |
| | Drew | Casa Bonita | Collect all the coins during Water Level and give them to him. |
| | Eric Cartman | Casa Bonita | Deliver 10 sopaipillas to him (both variants are acceptable, and the ones without honey will be depleted first), you would have to take a picture of him in the jail in order to give him the items. |
| | Hector | Casa Bonita | Have black hair. |
| | Jorge | Casa Bonita | Wear Mariachi Suit. |
| | Karen | Casa Bonita | Request selfie with her. |
| | Manuel | Casa Bonita | Request selfie with him. |
| | Master Vampire Adams | Casa Bonita | Request selfie with him after the story ends. |
| | Mike Makowski | Casa Bonita | Request selfie with him after the story ends. |
| | Mrs. Winkleman | Casa Bonita | Give her son a Sombrero Bear for 10 tickets from the arcade vendor, then request selfie with her. |
| | Rafael | Casa Bonita | Wear Mariachi Mustache. |