City Wok is a Chinese restaurant and small commercial airline. It is run by Tuong Lu Kim and was first seen in the Season Six episode, "Jared Has Aides".
Background
When Tuong Lu Kim pronounces the name of the restaurant, it sounds as if he says "shitty wok", due to his thick accent. Other South Park residents and reporters have called it "shitty wok" as well.
According to the DVD commentary on the episode "Jared Has Aides", City Wok is a real restaurant in Los Angeles. The staff of South Park Studios have ordered take out from in the past. The name is used with permission.
City Airlines is also owned by Tuong Lu Kim. When Stan calls for City Airlines, Lu Kim changes the logo board to City Airlines and puts on a pilot cap. He had only one airplane, which crashed in "It's Christmas in Canada". It was a yellow Cessna with a tail number 432G.
Cock Magic Fights
The janitor at South Park Elementary reveals the City Wok holds real fights with real brutality in their basement. The fighting is really roosters playing the card game Magic: The Gathering (CCG) for a $5.00 admission.
Video Games
Side Quests
Tuong Lu Kim gives the New Kid a quest to defeat all the Mongolians from the Tower of Peace. Upon completion, he will reward you with a friend request and a summon.
Collectables
While City Wok itself does not have much of a role in the game, Tuong is the leader of the City Ninja service. If the New Kid comes here after The Invitation, they can buy an Assassin contract to stop the ninjas following him.
Side Quests
A Fast Travel flag can be found outside City Wok.
Collectables
Coonstagram Followers

Tuong Lu Kim - Buy a City Ninja Contract and then selfie with him.
Officer Barbrady - Can be selfied with on the right table.

Yaoi Art

Spoonful of Tweek - Can be collected from the left wall.

Costumes

Scarlette Headband - Can be bought from City Wok.
Scarlette Suit - Can be bought from City Wok.
Scarlette Wristbands - Can be bought from City Wok.

Inventory

Super Spicy City Shrimp - Can be bought from City Wok. Required to craft the Cheesy Shrimparito and unlock TimeFart Pause.
City Ninja Assassination Contract - Can be bought from City Wok for $5000, after which all the assassins stop attacking you.
Appearance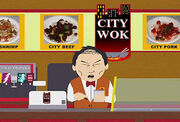 Outside 'City Wok' is styled in a traditional Chinese decor and inside there are two partitions. One is the counter where people purchase food and Tuong Lu Kim stands to serve customers and receive delivery orders via the telephone. The other partition is the seating which has tables and chairs where customers may eat their meal. All products in the counter start with "City".
Prominence
Trivia
In the Mandarin Chinese dub, this location is known as "鸡野家" (Pinyin: Jī yě jiā), parodying Japanese fast-food chain Yoshinoya (吉野家). The running gag lies in the word "鸡" (lit. Chicken), a slang term for "slut" or "coquette".