Christophe, better known as The Mole, is a bitter French nine year old with an expertise in covert operations and an intense hatred of God.
In South Park: Bigger, Longer and Uncut, Gregory told the boys to procure the Mole's help in saving Terrance and Phillip. The Mole helps the boys infiltrate the USO show, but the mission fails after Cartman forgets to shut down the base's security system. As a result, the Mole is fatally injured by a group of army attack dogs.
As he died, he sang "The Mole's Reprise", while Kyle held him and softly eased him into death. At his moment of passing, The Mole seemed to finally embrace the thought of meeting God in the next world. The Mole, like everyone else who died in the war, was presumably brought back to life after Kenny McCormick's wish.
He made a brief cameo appearance in "Two Guys Naked in a Hot Tub", where he is seen on Late Night with Conan O'Brien, while Stan channel surfs.
Appearance
He has an unkempt appearance and carries a shovel with him on his back. He dresses in dark green and brown camouflage and wears fingerless gloves. He has messy brown hair, a prematurely lined face and prominent ears. He is usually seen smoking a cigarette.
Personality
The Mole smokes cigarettes, is foul-mouthed, and has an outspoken grudge against God, whom he blames for everything wrong with the world. He displays a tough exterior and appears to have a jaded outlook, as well as being abrasive towards others. He also appears to be manic and emotionally unstable. He also expresses a hatred for guard dogs.
Family
The only family member to appear on-screen is his mother.
The Mole does not appear to have a very good relationship with his mother. According to the Mole, his mother attempted an abortion by stabbing him in the heart with a clothes hanger while he was still in her womb. He does appear to be intimidated by his mother, still doing as she says. His mother does not agree with his misotheism, often grounding him for saying bad things about God.
Relationships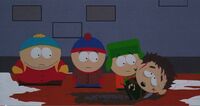 Kyle showed a certain amount of concern for the Mole's safety, advising him to be careful when infiltrating the USO show. Later on, as the Mole lay dying, Kyle attempted to give him solace, easing him into death. Notably, they also shared a short duet, "The Mole's Reprise".
Stan seemed to think that the Mole was a little crazy, saying to Kyle, "Damn, dude, that kid is fucked up." Earlier on, the Mole momentarily throttled Stan and interrogated him as to who sent them.
The Mole blames God for everything that is wrong with the world, but later comes to accept the prospect of meeting God in the afterlife as he is dying.
Although they never appear on-screen together in the final film, the Mole is implied to have had previous contact with Gregory, who personally recommended the boys procure his help in the upcoming operation to free Terrance and Phillip.
Quotes
The Mole speaks with a heavy French accent, and often refers to other people as "bitches". His catchphrase is "Shit!", which in his accent actually sounds closer to "Sheet!"
All quotes are from South Park: Bigger, Longer and Uncut.
The Mole: "God? He is the biggest bitch of them all!"
Stan: "I have to find the clitoris so I can get this Wendy girl to like me aga—"
The Mole: "Hey! You need to stop thinking with your dick! You have to be on your toes. Because I am not going to be grounded again! Not for you! Not for anybody!"
The Mole: "What do you think this is, kid? TV kiddy hour where we all sit around and lick Barney the dinosaur's fucking pussy? Huh? This is real life, with consequences you take to the grave!"
Kyle: "Be careful, dude."
The Mole: "Careful? Was my mother careful when she stabbed me in the heart with a clothes hanger while I was still in ze womb?"
The Mole: "Now the light, she fades,
And darkness settles in.
But I will find strength,
I will find pride within.
Because although I die,
Our freedom will be won.
Though I die, La Resistance... Lives... On."
References