This page contains trivia for "
Chef's Chocolate Salty Balls
". Remember, trivia must be factual, provable, and it is always best to cite your source for not-so-obvious trivia. If you would like to dispute a trivia point, please discuss it in the article comments.
Trivia
This episode was the last to feature the town as a backdrop in the closing credits. From "Chickenpox" onwards the credits are played over a black screen. This stays in the same way until the season ten episode "Smug Alert!".
Instead of an instrumental version of the theme song at the end they have Chef's song "Chocolate Salty Balls"
This is the first time Mr. Hankey is seen when it is not Christmas. The second being "201".
There are many sexual references concerning Chef and his Chocolate Salty Balls.
The Comedy Central 2000 Logo use the Transmitter audio since "Ike's Wee Wee".
This is the first time Kenny dies and his friends aren't with him, thus two movie goers parody Kyle and Stan's catchphrase with, "Oh my god, I found a penny!" and the other replying with, "You bastard!"
This episode shows Kenny's precocious sexual knowledge, as he was the only character who laughed at double sense of Chef's products names.
Stephen Stotch is shown to be a movie theater projectionist in this episode. 
References to Popular Culture
Goofs
In the scene where Cartman gets sent to the Principal's office, the poster on Mr. Garrison's desk changes from a poster with various leaves and the word 'Leafs' to a poster with a giraffe.
When Stan and Wendy go to their first independent film together, Fred Savage can be seen in the audience. Fred Savage does not arrive in South Park until later in the episode.
When Mr. Hankey plays the organ, he has his bow tie on. But when he turns around, his bow tie is gone. But in a few scenes, the bow tie is back.
After Cartman mocks Wendy when she meets up with Stan and the rest of the boys at the film festival, she stops existing temporarily when the camera pulls back for a few seconds.
Kenny's Death
Kenny is trampled by a crowd leaving a theater. Stan and Kyle are not present; instead, a moviegoer says, "Oh my God, I found a penny!", and his friend replies, "You bastard!"
Hidden Visitor(s)
Three
visitors
can be found in this episode: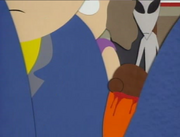 At the "Bijou" on the 2nd row from the back, behind the man with the cowboy hat.
Rushing out of the theater with the others at the end of "Me and Mr. Hankey."
In the same row mentioned above but behind the person to his left.
Story Elements

Media

Release
Community content is available under
CC-BY-SA
unless otherwise noted.