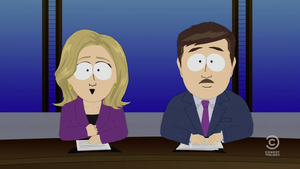 For other news channels, see List of News Channels.
The Channel 4 News is a news cable television network seen in 68 episodes. It first appeared in the Season One episode, "Volcano".
Background
Channel 4 News is one of the more popular news channels watched in South Park.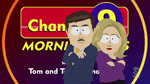 Channel 9 News
The Channel 9 News is a sister news channel, using the same news anchors and field reporters.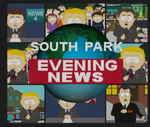 South Park Evening News
The South Park Evening News is the evening program for South Park. The head anchor was originally Tom Pusslicker, but he was later replaced by Tom Thompson. In Season Seventeen, his sister and lover, Tammy Thompson, joins him.
List of Reporters
Reports
Season One
| | | |
| --- | --- | --- |
| Image | Episode | Description |
| | "Volcano" | The first time seeing the channel, the channel is recording live on the scene, documenting the South Park people as they are trying to avoid a fiery doom. |
| | "An Elephant Makes Love to a Pig" | The channel is reporting Stan Marsh, they confuse Clone Stan Marsh for Stan, is causing the destruction of the town. |
| | "Death" | The channel is reporting on the adults of South Park in their effort to take Terrance and Phillip off the air for it's vulgarity. |
| | "Pinkeye" | The channel reports on the MIR Space Station crashing and the "Pinkeye" Epidemic. |
| | "Damien" | The Channel and others are interviewing Satan about the fight between Jesus and himself. |
| | "Mecha-Streisand" | The Channel reports on how Kyle found a triangle. |
Season Two
Season Three
Season Four
Season Five
Season Six
Season Seven
| | | |
| --- | --- | --- |
| Image | Episode | Description |
| | "Krazy Kripples" | The Channel makes reports about Christopher Reeve's progress in his long recovery, by the end Christopher Reeve is evil and Gene Hackman is good, and the reporter even states that if irony was strawberries, we'd be drinking a lot of smoothies. |
| | "I'm a Little Bit Country" | The Channel documents the town's decision on whether to support our troops or bring them home. |
| | "Red Man's Greed" | The Channel reports on the town trying to keep South Park from the Indians, I mean Native Americans. |
| | "Grey Dawn" | The Channel reports about the senior citizens bad driving. |
| | "Casa Bonita" | The Channel documents the search for Butters Stotch. |
Season Eight
| | | |
| --- | --- | --- |
| Image | Episode | Description |
| | "Cartman's Incredible Gift" | The Channel reports on the many supposed Copycat killers of the Left Hand Killer. |
Season Nine
Season Ten
| | | |
| --- | --- | --- |
| Image | Episode | Description |
| | "Cartoon Wars Part I" | The Channel reports on the protest rallies in the Middle East. |
Season Twelve
| | | |
| --- | --- | --- |
| Image | Episode | Description |
| | "Over Logging" | The Channel tries to get the news but they have no internet |
Season Thirteen
| | | |
| --- | --- | --- |
| Image | Episode | Description |
| | "The F Word" | The Channel reports on what kids deem the meaning of the word "Fag" is. |
Season Fourteen
Season Fifteen
| | | |
| --- | --- | --- |
| Image | Episode | Description |
| | "1%" | The Channel talks about the 99% rally. |
Season Sixteen
Season Seventeen
| | | |
| --- | --- | --- |
| Image | Episode | Description |
| | "Let Go, Let Gov" | The Channel reports on the DMV, the Post Office, and themselves committing child molestation. |
| | "World War Zimmerman" | The Channel reports on the end of the apocalypse, George Zimmerman being executed, and Cartman, who Zimmerman shot. |
| | "Black Friday" | The Channel reports on the upcoming Black Friday sales. |
| | "A Song of Ass and Fire" | The Channel's active reporter,Niles Lawson, sides with both Microsoft and Sony to stir up the upcoming war in South Park. |
| | "Titties and Dragons" | The Channel documents the night of Black Friday. |
| | "The Hobbit" | The Channel interviews Wendy about her fight against photoshop, then accuses her of being jelly and wants to send her to jelly school. |
Other