"COVID-19" is under construction. Some information may be missing.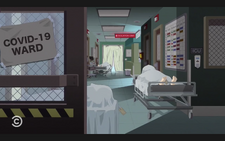 COVID-19, popularly known as the coronavirus, is an infectious respiratory disease caused by severe acute respiratory syndrome coronavirus 2 (SARS-CoV-2).[1] As a response to the virus, authorities in most countries mandated citizens to wear masks, while closing down schools and other non-essential businesses.
In the earlier months of 2020, COVID-19 spread quickly worldwide, causing many countries to shut down businesses and governmental organizations, mandate citizens to wear a mask or get tested, and killed more than one million people globally.
The COVID-19 pandemic was featured in "The Pandemic Special".
Background
In "The Pandemic Special" scientists reveal that COVID-19 spread from a pangolin. Hearing this, Randy Marsh believes that he started the pandemic back in October last year after the events of "Band in China" by having intercourse with a bat and later with a pangolin in Wuhan, China, where it is believed to be the origin of the virus.
See also
References
Community content is available under
CC-BY-SA
unless otherwise noted.