Butters' friends are a group of students who first appeared in the Season Thirteen episode, "Dances with Smurfs".
Background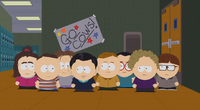 In the episode, Eric Cartman takes over the school morning announcements, and makes use of them to bash the Student Body President, Wendy Testaburger. Butters buys into Cartman's accusations and forms a group against Wendy. They read Cartman's book that rips on her. After Cartman weaves a story of Wendy killing Smurfs, Butters and the group wear similar t-shirts that state: "I ask questions". He leads the group to Wendy's house, where he climbs her steps and urinates on Wendy's front door, telling her to go on the EC show and defend herself.
Appearance
Most of them have stereotypical appearances of awkward nerds, such as messy hair, strange facial features, and glasses.
Prominence