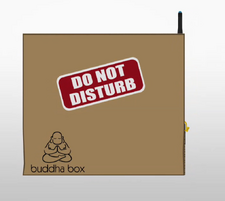 The Buddha Box was featured in the eponymous episode, "Buddha Box", of Season Twenty-Two. It makes another appearance in the next episode, "Unfulfilled".
Appearance
Its outward appearance is that of a simple cardboard box, but it has a visible cell antenna form the outside as well as a "Do not Disturb" sticker on the front; on the inside, it has a display that projects the phone screen of the user using Bluetooth as well as noise-cancelling headphones.
Background
In the eponymous episode "Buddha Box", Eric Cartman uses the Buddha Box in order to deal with his anxiety. He manages to convince Craig and PC Principal to get one for themselves. PC Principal buys a Buddha Box for him and another for Strong Woman in order to deal with the PC Babies.
Cartman tells Mayor McDaniels that she should give everyone in town Buddha Boxes. At the PTA meeting organized by PC Principal, all parents are seen using Buddha Boxes.
In "Unfulfilled", Cartman is seen wearing his Buddha Box again.
Community content is available under
CC-BY-SA
unless otherwise noted.