The Broadway Bros - Stephen Sondheim, Stephen Schwarz, Andrew Lloyd Webber and Elton John - are a group of Broadway writers who are total bros and hang out at Hooters. They are responsible for creating a massive conspiracy to get men blowjobs through subliminal messaging in Broadway theater productions.
They all appear in the episode "Broadway Bro Down". When they learn about Randy's new play, Splooge-Drenched Blowjob Queen, they are alarmed that the overtness of the play will disclose the secret of Broadway and set out to stop him.
Although their first meeting is confrontational, Randy and Sondheim later have a "bro-down" and gain respect for one another. Now officially "bros", the other writers eagerly help Randy make his play more subtle, renaming it to The Woman in White and removing all the outright mentions of blowjobs, instead introducing more oral "subtext". It is not known whether the play was completed, as Randy left to interrupt a performance of Wicked in order to stop his daughter from performing oral sex on her boyfriend before it was completed.
Stephen Sondheim
Stephen Sondheim has written a large number of critically acclaimed theater productions, including (but not limited to) West Side Story, Sweeney Todd, Sunday in the Park With George and Merrily We Roll Along. Sondheim was described as "the greatest Broadway composer alive today, perhaps the greatest of all time" during the episode. He has a "bro-down" with Randy Marsh, after which they become bros. He later helps Randy introduce some subtext into his play, The Woman in White. He wears a black, yellow and white Pittsburgh Steelers jersey as well as a Steelers' hat of the same colors.
Stephen Schwartz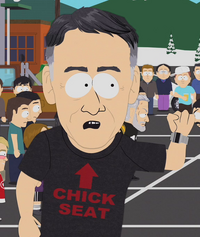 Stephen Schwartz wrote the critically acclaimed theater musicals Godspell and Wicked (among others), the latter of which Randy and Sharon, and later Shelly and Larry, go to see during the episode. He wears a black T-shirt with "Chick Seat" and an upwards arrow printed in red at its center.
Andrew Lloyd Webber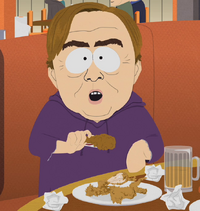 Andrew Lloyd Webber wrote the Broadway hits The Phantom of the Opera and Cats. After they become bros, Webber helps Randy write some subtext into his play, Splooge-Drenched Blowjob Queen. It is Webber who suggests that the play be renamed to the much more subtle title The Woman in White. He wears a purple hoodie.
Elton John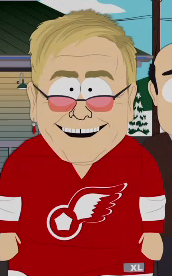 Main article: Elton John
Elton John has composed the score for several successful Broadway productions, including Lestat: The Musical and The Lion King. Elton John previously appeared on the show in the episode "Chef Aid" and on the accompanying mockumentary and album. He wore a red, long-sleeve jersey and red-lensed, black-framed sunglasses.
Community content is available under
CC-BY-SA
unless otherwise noted.