The Boy with Blond Hair is an unnamed character who first appears in the Season Eight episode "Quest for Ratings".
Since "Cartoon Wars Part I", he has made numerous appearances in the background and can usually be seen in large crowd scenes or in South Park Elementary's hallways.
Appearance
He has curly blond hair which resembles Tommy Turner's, although Tommy Turner has brown hair. In "Breast Cancer Show Ever" he can be seen wearing a green jacket, blue pants, and black shoes.
Prominence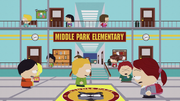 He appears in the game's ending, after Douchebag farts on Nazi Zombie Princess Kenny's balls, proclaiming that he and his father are all better, after presumably being turned into Nazi Zombies.