The Blue Team is a group of children with disabilities that appears in Season Fourteen episode, "Crippled Summer". The Blue Team is led by Jimmy Valmer and is a rival of the Red Team. According to Nathan, the Blue Team beats the Red Team every year. Most members of the group are inspired by Looney Tunes characters such as Elmer Fudd , Droopy Dog and Pete Puma.
Appearance
Members of the Blue Team wear the standard blue Tardicaca Camp uniforms, which consist of a blue shirt with the Lake Tardicaca logo.
Members
Jimmy Valmer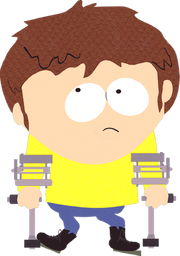 Jimmy Valmer is the leader of the Blue Team. He wears a yellow long-sleeved shirt, blue jeans and black boots. He has brown hair with sideburns. Jimmy was shown to be a good leader.
Timmy Burch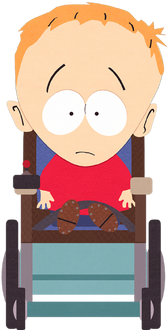 Timmy Burch wears a red sweater and black trousers. His head is deformed at the top, and he has strawberry blonde hair. He is almost always seen sitting in a black wheelchair and is usually smiling openly and fidgeting with his hands.
Libby Perkins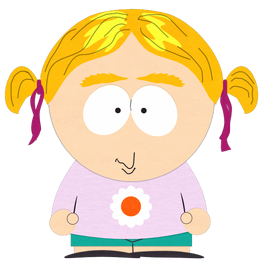 Libby (Formerly Lenora) is usually used as a background character. She has blond hair with braids, thick eyebrows and a crooked mouth. Outside the group she wears a pink shirt with a flower in the middle, blue pants and black shoes.
"Elmer Fudd"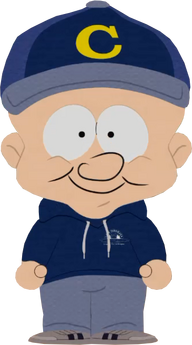 He wears a blue cap with a gray border, a blue hood with the Camp Tardicaca logo, and light blue pants. His appearance makes it look and sound like the cartoon character Elmer Fudd . He participates in the canoe race and cheered for Jimmy as he surfed the board.
"Droopy Dog"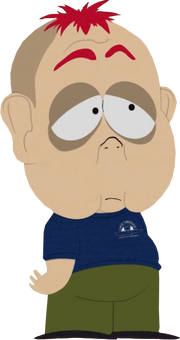 He has a small tuft of red hair and red eyebrows on his head and baggy eyes. His appearance makes him look like the cartoon character Droopy Dog.
"Pete Puma"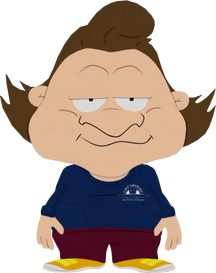 He is almost always smiling and has a wide nose and a big mouth, his eyes are almost closed and he also has big hands. His appearance and behavior make him look like the cartoon character Pete Puma.
"Beaky Buzzard"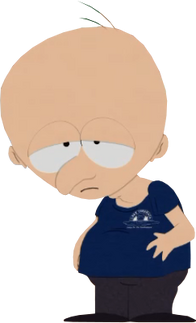 He has a long nose and a swelled head. He is also bald with two pieces of black hair coming out of the top. His disability makes him look like the Beaky Buzzard character.
"Sylvester"
He has long black hair and a large nose. His disability makes him look like the character Sylvester .
"Porky Pig"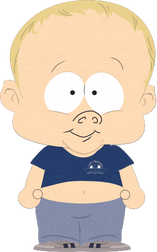 He has very short blond hair and a pig nose, he also seems to be overweight. His appearance and behavior make him look like the character Porky Pig .
"Tasmanian Devil"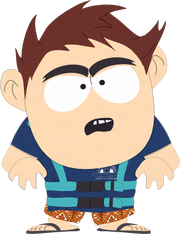 This boy has messy dark brown hair, big ears and thick and unusual eyebrows. His appearance makes him look like the Tasmanian Devil character.
"Foghorn Leghorn"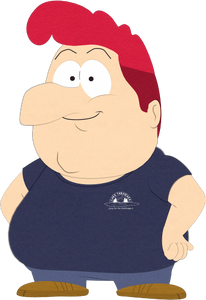 This boy has red hair and has a big nose and is overweight. He was seen only at the end of the episode behind Elmer Fudd and Pete Puma while Nathan is being taken by ambulance. His appearance makes him look like the Foghorn Leghorn character.
Unnamed girl 1
This unnamed girl has short, dirty blond hair, a deformed, usually open mouth, and wears the standard blue Lake Tardicaca uniform with light blue shorts with white stripes on the sides and large white shoes. Outside camp she wears a purple sweater. She has not played any big roles yet.
Unnamed girl 2
This girl has long black curly hair with a weird hairstyle, a big chin and a tall mouth. In "Funnybot" she acted as the guitarist of Jimmy Valmer and in "Sponsored Content" she appears as one of the disabled children in PC Delta.
Community content is available under
CC-BY-SA
unless otherwise noted.