This page contains trivia for "
Bloody Mary
". Remember, trivia must be factual, provable, and it is always best to cite your source for not-so-obvious trivia. If you would like to dispute a trivia point, please discuss it in the article comments.
Trivia
The Episode's title is derived form the alcoholic drink of the same name. Also its a reference to the "Bloody Mary" Myth.
In the scene where Randy explains to Stan about the statue, you can see a visitor in the back window of his car.
Stan refers to the episode "Trapped in the Closet" when he says he was leader of a cult once.
Every time the word Discipline is said, it is pronounced in broken Engrish, except once where Stan is talking to his dad about drinking.
Controversy
The Catholic League for Religious and Civil Rights condemned this episode for its treatment of the Virgin Mary. They demanded an apology to Roman Catholics and that the episode "be permanently retired and not be made available on DVD." In particular they also demanded that Joseph A. Califano, Jr., a member of Viacom's board of directors and a practicing Catholic, issue his own statement of condemnation. Califano did later release a statement calling the episode an "appalling and disgusting portrayal of the Virgin Mary," and pledged to have it reviewed. When Comedy Central subsequently reaired all the episodes from Season 9 in late 2005, Bloody Mary was noticeably absent from the broadcast.
Goofs
Randy Marsh's eyebrows dissapear while he's in line to see the Bloody Mary statue.
When Randy tells Stan to drive the car, he states that he is eight when ever since Fourth Grade, he has been nine.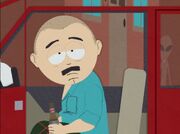 Hidden Visitor(s)
When Randy Marsh is going to visit the Bloody Mary statue, a visitor is seen through the rear window of his car.