The Blonde-Haired Girl is a student at South Park Elementary who appears in the Season Nine episode, "Erection Day".
Background
In the episode, she is one of the participants of the school's talent show. She plays the piano and sings poorly to "Open Arms" by American rock band Journey.
Appearance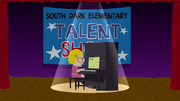 She has short blonde hair with a pink flower beret adorned on one side and she wears black glasses. At the talent show she is seen wearing a pink dress with dark stripes and black shoes.
References