Apple Inc. appeared in "HUMANCENTiPAD", introducing a new product called the HUMANCENTiPAD. Steve Jobs is the CEO of Apple. Apple is most notable for its excessively long and overbearing terms and conditions, which, if agreed to, allow them to track your location, tase family members, as well as make you part of a HUMANCENTiPAD.
Products
iPhone
The fourth-generation iPhone is seen several times throughout South Park, most notably in "Bass to Mouth", where Craig Tucker, Eric Cartman, and Tommy Edwards were seen using one.
iPad
The iPad is a tablet computer designed by Apple inc. It became extremely popular among the male fourth-graders in "HUMANCENTiPAD". Cartman and Kenny were the only male fourth-graders not to own one. Kenny couldn't afford one, while Eric was told by his mother that he had to wait until his birthday to get one. After angrily explaining that this wouldn't work, Cartman convinced Liane to drive him to Best Buy. However, once he got there, he wants the most expensive version. Liane declines as the iPad he wants is above her budget. She suggests an alternative, the Toshiba Handibook, but Eric throws a temper tantrum, causing her to refuse to buy him anything.
The iPad made a second appearance with the Season Sixteen episode, "A Nightmare on Face Time". Stan and Kyle use the Facetime application so Stan can trick or treat with his friends.
In "Safe Space", iPads are given to poor children in an undisclosed shantytown to get rid of social media negativity.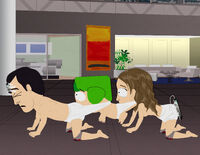 In "HUMANCENTiPAD", Apple introduced a new product named the HUMANCENTiPAD. It consisted of an iPhone, three humans surgically attached mouth-to-anus, and an iPad. The "product" could presumably do everything the iPhone and iPad can, as well as everything a human can do, such as read, write, and walk. It was given to Cartman after his mom "fucked" him. The HUMANCENTiPAD "volunteers" were released however after Gerald convinced Steve Jobs.
MacBook Pro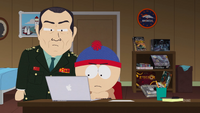 In "Band in China", Stan uses a MacBook Pro to write his biopic script under the close watch of a Chinese censor.