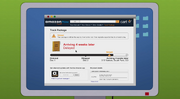 Amazon is an online retailer founded by Jeff Bezos and featured in the Season Sixteen episode, "Insecurity". Its major role returns in the Season Twenty-Two episodes "Unfulfilled" and "Bike Parade".
Background
Many of the townsfolk buy merchandise from Amazon but forget why. It was speculated that the UPS package delivery man, who is named Thad, was using the website as a ruse to sexually assault the husbands' wives while they are at work. Stephen Stotch was also certain he was being tricked into contact with Thad when he could not remember what he had ordered when his package arrived. To get rid of the UPS man, the men heed the advice to the Old Farmer and ambush him. They all buy Bane masks like the ones seen in the film The Dark Knight Rises to use as disguises as they beat him up at a storage locker facility.
The items ordered from Amazon as mentioned in the episode include parring knives for Sharon Marsh, a book for Stan Marsh, and an iPhone adapter for Stephen Stotch. Due to his belief in the rumors about Thad, Randy Marsh tries to boycott Amazon but finds going to physical stores too time-consuming.
Amazon opens a new Amazon Fulfillment Center in South Park and many of the townsfolk get a new job there, including Stephen Stotch, Stuart McCormick, Skeeter, Mr. Slave, and Tweek's parents, Richard and Mrs. Tweak.
The Amazon workers, with the exception of Stephen, decide to strike after hearing that Amazon blamed them for Josh Carter's accident. Jeff Bezos visits Mayor McDaniels and tells her that if the orders keep getting unfulfilled, she will lose her Prime member status. The strike continues and the Amazon customers start protesting against the strike, wanting their stuff fulfilled. Inside the fulfillment center, Stephen is the only one working. Jeff Bezos receives a call from Stan, who tells him that he has workers available for him much to Jeff's pleasure.
The strike continues in the following episode and the boys get their stuff from Amazon after helping Jeff Bezos with workers. Back at the Amazon Fulfillment Center, Stephen Stotch, the new manager of the center, teaches the new workers how to package things.
The boys go to the City Hall to protest against the bike parade in order to get it canceled, but they find Jeff Bezos in charge. He tells the boys that the bike parade was needed in order to attract more people to work at the fulfillment center so they can get their stuff fulfilled. Outside, the townspeople confront Jeff, explaining that with weed, this town doesn't need Amazon anymore.
Randy mentions that Tegridy T-shirts will be available on Amazon.
External Links