A Mother's Courage is an online short released on the Comedy Central website in 1998 to coincide with the Season Two Halloween episode, "Spookyfish". It was lost from the internet until 2015.
Plot
The short is about Stan, Kyle, and Kenny demonstrating how to make a Jack-o-lantern that looks like Lou Diamond Phillips. They are also arguing with Cartman, who is in the background eating a whole bag of candy cones.
Video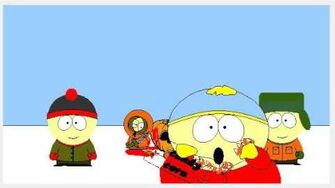 How it was lost
Originally, it was available to download through a small 50 KB file called "SouthPark.mcs", and was made with an obscure tool called Media Conveyor, which, at the time was a rival to the form of Macromedia Flash. It was chosen because it was able to recreate the South Park art style with small downloads, which was important at the time because back then, the average consumer had low bandwidth. Plus, it worked with a cache system. This means that you could make a model once and save it to use for later. Macromedia Flash became the mainstay animation software, leading Comedy Central to pull the short and replace it with a comic following the exact same story, and the short was presumed to be lost forever.
Discovery
Recently, various South Park fan forums across the web found out about the short and proceeded to look for it. In October 2015, a YouTube channel going by the name of Mannis found this short, and uploaded to his channel.
Trivia
Kenny's Death
Kenny accidentally impales himself with a knife he was using to carve a Jack-o-lantern, though the trademark phrases from Stan and Kyle did not follow suit.
Comic Strip
Script
Cast
Stan Marsh
Kyle Broflovski
Eric Cartman
Kenny McCormick
A Mother's Courage
Outdoors, winter.

Stan

Halloween is coming, the time when we all join together and celebrate the birth of Jesus.

Kyle

Yeah. And since the best part of Halloween is carving pumpkins, we're going to demonstrate how to carve one to look exactly like Lou Diamond Phillips.

Stan

Lou Diamond Phillips.

Kyle

Woo-hoo!

Cartman

[Walks in] No, no, no, you guys. The best part about Halloween is candy cones.

Stan

You shouldn't eat all that, Cartman, you're gonna get sick.

Cartman

Eyyy! Go to hell!

Kyle

Anyway, to make a Lou Diamond Phillips Jack-o-Lantern, the first thing you need is a very sharp knife.

Kenny

[Walks up to the Jack-o-Lantern holding a knife] (Mmph mph mph mphmphmmmmphh.)

Stan

Cut the top of the pumpkin off.

Kenny

[Stabs his left hand which is resting on the pumpkin] (Oh nooooooooo!!!)

Kyle

Make sure the knife is always pointing away from you. [Kenny drives the knife down, cutting his left hand, and screams. He then swings the knife upward, chopping off his left arm, which drops to the ground. He gasps in horror]

Stan

Now, cut out the eyes. But make them really beady.

Kyle

Yeah. And cut the nose really, really big.

Cartman

Ey, you guys. I've almost finished this entire bag of candy cones.

Kyle

Dude, we warned you, Cartman. Those things will make you sick!

Stan

Finally, make the mouth small. But turn slightly upwards in a devilish but charming black sausage grin. [Kenny cuts out the mouth, then stabs his chest with the knife. He screams loudly as his severed right arm now falls to the ground. He falls backward into a pool of blood, dead]

Kyle

Dammit! [Points at the Jack-o-Lantern] That doesn't look anything like Lou Diamond Phillips.

Cartman

[Walks up to them] Ey, you guys, I don't feel so good. [He vomits the candy cones onto the Jack-o-Lantern]

Stan

Dammit Cartman go puke somewhere else!

Kyle

Hey! Now it kinda looks like Lou Diamond Phillips.

Stan

Happy Halloween!

Kyle

Happy Halloween! [Cartman vomits again. His vomit covers the screen]
"HAPPY HALLOWEEN" written in candy cones appears on the screen.

Stan

Happy Halloween!

End of A Mother's Courage
See also
Resources
Community content is available under
CC-BY-SA
unless otherwise noted.