6 Days to Air: The Making of 'South Park' is a documentary by Arthur Bradford. The documentary premiered on Comedy Central at 10pm on October 9, 2011. Matt Stone and Trey Parker granted access for Bradford's camera crew to South Park Studios (to Anne Garefino's shock) to film the first 7 episodes of South Park's Fifteenth Season. The documentary mainly showed the making of "HUMANCENTiPAD".
Trivia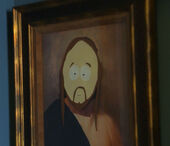 The documentary is a special feature on South Park: The Complete Fifteenth Season.
The documentary is 42 minutes long.
They have a realistic styled portrait of Jesus in their studio, but the character's face is replaced by Jesus from South Park.
Trey has a passion for Lego, the Heavy Assault Walker he made during Season Fourteen can be seen running around. Trey also has a massive Death Star set that has yet to be constructed. Trey said playing with Lego helps him think in a different way and it's therapeutic.
In the "City Sushi" segment, it shows how they made Tuong Lu Kim dance onto the stage. They did this by recording someone doing that dance, and then putting Tuong Lu Kim over that man.
In the "HUMANCENTiPAD" segment, it shows the cast celebrating Easter, and a decorative "SOUTH PEEP" cake is seen too.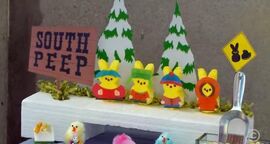 ​​​
On the white board inside the writers' room, "HUMANCENTiPAD", "Funnybot", "C.B.A.A.", "Crappy Music", "Vünter Slaush" and "Pro Boner" are seen written on the left, despite the latter three ideas geting killed due to some reasons (i.e. lame).
There is a "Kill Kenny, Win Emmy" slogan outside writers' room.
During an interview, Bob Dole said that he watches South Park on Wednesday nights.
Before South Park premiered on Comedy Central, Matt and Trey pitched the show to Fox, who rejected the show.
Everyone in the studio has a cameo of a character on his name tag, clearly shot ones are listed below.
Episodes
Clips from several earlier episodes/shorts are played, see the list below:
External Link
Community content is available under
CC-BY-SA
unless otherwise noted.