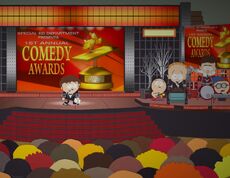 The First Annual Comedy Awards were presented by South Park Elementary's Special Education class. They were hosted by Jimmy Valmer in the episode, "Funnybot". The purpose of the event was to celebrate the best comedy films and persons from the past year. Michael, Timmy, a drummer, and a guitarist provided the music for the awards show. The awards show was openly despised by the students and faculty of South Park Elementary, even Mr. Mackey. The award show was held in the school's gymnasium.
Background
There were 51 awards, according to Jimmy, but only a couple were actually shown being presented. Only Jimmy and Tyler Perry actually showed up to receive their award.
List of Awards
Funniest Kid in School
Best Comedy Performance in a Movie
Funniest Correspondence Dinner Speech
Least Funniest People in the World
Kathy Griffin Award - Awarded to the individual is most likely to show up to accept the award.
Gallery
Trivia
Community content is available under
CC-BY-SA
unless otherwise noted.