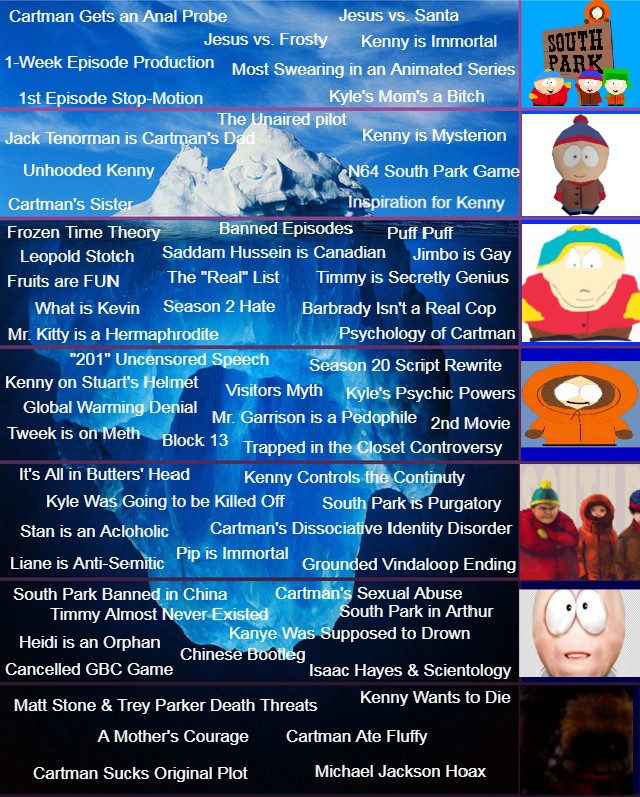 So I'm sure some of you have seen these iceberg chart images before, but if you haven't, it basically lists theories, trivia, hoaxes, and other types of things from most well-known to most obscure. After seeing several of these types of images, I wondered if there was one made for South Park. I did find two, but neither of them were very good; either they just didn't have many items listed, or kind of got the premise of an iceberg wrong. So I figured I'd make my own!
The order goes like this:
Tier 1: Things that just about any South Park fan would know about. These are things you either heard about before seeing the show or can figure out by watching the show, or just the most obvious trivia. A lot of simple behind-the-scenes trivia here.
Tier 2: Mostly "fun fact" type listings that are proven either in the show or by the creators. These are the kinds of things I learned about when I first got into South Park, and most of you would probably recognize them as well.
Tier 3: This gets more into theorizing territory, and some lesser-known trivia, some of which may not be entirely canon. This is mostly the stuff I found when I googled "South Park theories" or "South Park trivia."
Tier 4: Some things that are less obvious to the casual viewer, but still many fans of South Park have heard of.
Tier 5: More obscure, but more importantly more dark than the last tier. Lots of "dark" theories and trivia. Admittedly I opted a bit more for spookiness than obscurity here, though the two traits tend to overlap. So if you've heard about a lot of these, that's why.
Tier 6: More dark and obscure than the last tier. Some of this stuff is quite obscure and not as well-known, or references some of the darkest themes in South Park's history.
Tier 7: The darkest and most obscure bits of South Park that I could find. Includes some lost media, abandoned ideas and some "spooky" theories. Obviously this section was the hardest to fill up because the most obscure things aren't going to show up on the first page of Google, but I tried my best.
Feel free to give me some suggestions of what I can add to the iceberg, I'd love to hear them!